The World Health Organisation (WHO) recently held the 1st WHO Infodemiology Conference – a series of 7 webinars that took place over 3 weeks from 29th June 2020. Infodemics, as defined by WHO, refers to an overabundance of information (some accurate and some not) occurring during an epidemic. Just like an epidemic, an infodemic spreads between humans through digital and physical systems.
This makes it hard for people to find trustworthy sources and reliable guidance when needed. Misinformation, especially during pandemics like COVID-19, can have both long term and short adverse effects in disease control. As Forbes reported, as COVID-19 continues to spread, so does misinformation via social media. Interestingly, even prior to COVID-19, there were concerns that social media platforms are a contributing factor to the spread of inaccurate and false health information. "The rapid dissemination of trustworthy information" , British medical journal The Lancet warned in February, is needed most during a period of uncertainty.
What is the conversation in East and West Africa?
Obtaining the data
The Study Design and Analysis department at CcHUB Design Lab has been scraping tweets on COVID-19. This was done to assess the type of sentiments on COVID-19 and how far this information traveled (tweet reach). The tweets were gathered over a six months period (January 01, 2020 to June 25, 2020) in Eastern Africa and West Africa. Twitter Search API was used to retrieve the tweets using "covid", "corona" and "pandemic". The most influential twitter users (more than 100,000 followers) sharing tweets in the topics from the regions were also obtained. The final dataset contained 41,434 tweets from 296 users.
Findings
The most active users came from Nigeria (29.87%), Kenya (23.38%) and Uganda (10.39%). The 15 most influential media twitter accounts from the region were: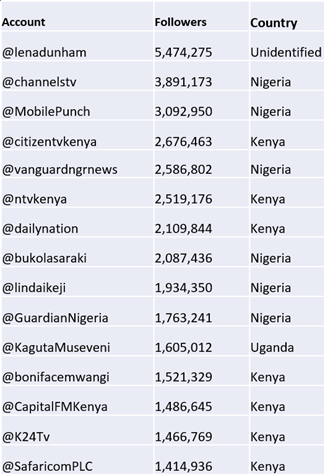 Sentimental analysis on the tweets revealed that there were more negative than positive sentiments on the pandemic. Majority of the negative sentiments were centered around outbreaks, death and the crisis. Positive sentiments were centered around COVID-19 support, encouragement to be safe and mercy as shown below.
How do we then manage an infodemic?
Reach/spread assessment of both negative and positive sentiments showed how powerful influential people can be. Positive sentiments, daily updates, prevention messages and encouragement during the period have seen great reach. For example:
"I will address the country tonight at 8pm, guiding on the way forward as the 21-day lockdown extension comes to a close tomorrow. I urge you all to continue observing the guidelines from our health experts as the battle against the Covid-19 pandemic continues."
@KagutaMuseveni, Uganda. Tweet reach: 12,902
"Health is wealth, safety first. Stay home, we shall overcome this soon🙏🏾 Mua: cattysglam #covid_19 "
@real_mercyeke, Nigeria. Tweet reach: 6,638
"I am looking forward to race again, to share the starting line with thousands of runners and run as fast as I can. But the health of the world is always top priority, so if we come together and follow the directives we can beat this pandemic."
@EliudKipchoge, Kenya. Tweet reach: 5,570
" I welcome the development of an IGAD regional strategy to combat and mitigate this health pandemic. In this war against #COVID19, these knowledge based actions and their clinical and public health interventions are key to saving the lives of our brotherly people."
@M_Farmaajo, Somalia. Tweet reach: 1,551
"Successful meeting today with PM @AbiyAhmedAli in Addis Ababa discussing our vision for the full intergration of the Horn of Africa and overcoming current challenges, including the current global health pandemic.v #AmaanoIyoAdeegv #HiigsiIyoHorumar #NabadIyoNolol"
@HassanAKhaire, Ethiopia. Tweet reach: 1,179
Conclusion
An infodemic cannot be eliminated, but can be managed. It is upon us to understand that during a pandemic the misinformation can be dangerous and not just misleading. So, how do we manage infodemics?
Check Source: It is important to check to see if it is a trusted source, but here is where follow up research is necessary. If only one news outlet is reporting something that seems like huge news – that should be a red flag.
Verify: If a post on social media references the World Health Organization (WHO), Centers for Disease Control and Prevention (CDC) or similar respected authority, yet their respective website doesn't have that information front and center, it should be questioned.