Africa is home to the second largest youth population in the world. Three (3) out of five (5) Africans are under the age of 25.
Educating this teeming youth population is a challenge for many African countries. Restricted access to education, teacher shortages and poor learning outcomes of students has a major impact on the skills of future workforces and consequently economic development of these countries. One area that requires immediate attention is STEM – science, technology, engineering and mathematics.
Co-creation Hub (CcHUB), along with a consortium of 2 African and 5 European partners, in our quest to improve learning outcomes in STEM across Africa, secured part-funding from the European Commission (under the Horizon 2020 Research and Innovation Funding Scheme) and Go-Lab Goes Africa (GO-GA), a technology-transfer project, was born.
Go Lab Goes Africa
GO-GA is improving students' participation and outcomes in STEM by adapting the successful GO-LAB Ecosystem (consisting of GoLabz.eu and Graasp.eu), deploying engaging digital STEM content, and developing the capacity of teachers in modern, effective teaching methods. The project rests on four pillars: the adaptation of the Ecosystem, community building, teacher training and in school implementation.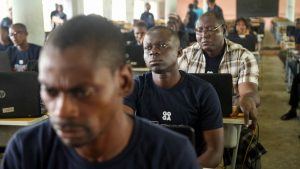 Imagine the multiplier effect of successfully deploying contextually engaging digital content in STEM and training teachers across Africa to not only use the content but contribute to the development of further relevant content. GO-GA will build off the incredible resources of the GO-LAB Ecosystem which offers students rich, challenging, and socially embedded science and technology experiences that shape their science and technology knowledge together with reflective and social abilities.
The specific objectives of the project include:
Adaptation and localisation of the GO-LAB platform to ensure suitability in schools across Africa;
Establishment of STEM educators network in collaboration with existing teacher training organisations across participating countries;
Design and roll-out of teacher training programmes led by 120 master trainers in Nigeria, Kenya and Republic of Benin;
Introduction and pilot of digital laboratories and inquiry spaces in 60 schools across Africa;
In 2018, we visited 14 model schools (being representative samples of school types) across the 3 pilot countries (Benin, Kenya and Nigeria) where we:
collected and analysed Information on the technical infrastructure and pedagogical practices;
adapted and validated the Go-Lab ecosystem;
set up more than 6 teacher communities;
selected and trained over 100 master teachers;
and published the first set of model resources co-created by master teachers and their peers.
In 2019, the implementation of digital laboratories and inquiry learning spaces in schools will be launched. These digital platform will help students better understand science and technology knowledge in a world that is increasingly science and technology driven. By empowering educators across the continent will digital tools they need to improve students' learning outcomes today, we are sowing seeds of growth and prosperity for Africa's future population tomorrow.