Technology is helping people around the world get involved in the conversation around democracy and elections – including in Nigeria, Africa's most populous country.
In 2015, Co-creation Hub in a collaborative effort with the Ford Foundation, EIE Nigeria, WANGONET and INITS, developed and launched GoVote.ng, a platform and campaign to educate Nigerians on how to get registered to vote in the country's General Elections and to mobilize them to do so. The platform aimed to simplify the entire election process and make it more responsive to users.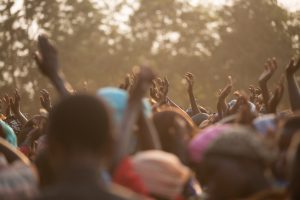 Citizens logged-on to the site to see whether they are registered with the Nigeria Independent National Electoral Commission (INEC) and, if not, they could find out how and where to register. The platform played a significant role in getting citizens involved in the elections and became a reference point for queries even by the electoral commission – with approximately 10,000 people visiting the site each day (according to TechSQUAD).
Today, GoVote is a standalone voter education platform which is answering critical enquiries of citizens around the registration process. Since 2015, we have expanded the scope of the platform to include:
Campaigns encouraging citizens to register during the PVC registration period for the 2019 elections
A locator service to help citizens find out where they can register and pick up their PVC
A complaints portal where citizens who have had trouble with registration/collection their PVC can register their dissatisfaction. For the 2019 general elections we worked with INEC and a civil society organisation to aid voters who had submitted complaints via the website to get their PVC.
Providing Information for first time voters on what to expect on election day ( accreditation, how to vote etc)
Educating voters on what to expect on election day
Voter education around responsible conduct before and during the elections ( Fake news, Respecting each others beliefs and values etc)
Aggregating information points geared towards helping voters make informed choices about candidates
Conducted citizen surveys on election governance.
For 2019, we have plans to further expand the reach of the platform by taking the message of voter education offline as we are focusing on both the elections that happen on cycle ( Presidential, Governorship, Federal & State House of Assembly) and off cycle (Local Government, Councillorship).